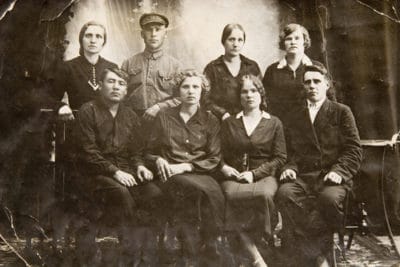 Old photographs are packed with memories, but they're also lacking quite a few elements that are common in pictures today. Color, for one. But perhaps the most noticeable difference between old time pictures and modern snapshots is the lack of smiles. At my Sacramento dental office, we want all of our patients to smile big and wide in photos, and we were curious to why this wasn't always the norm.
Technological Limitations
Back when the very first photo was taken in 1826, it took over eight hours to expose. That's about an entire work day to take a picture — which also meant the subject could not move or the photo would be ruined. Luckily, this first picture wasn't of a person. Thirteen years later, the exposure time was shortened to just fifteen minutes. While a huge time saver, fifteen minutes was still a long time for someone to sit as still as a statue, let alone hold a smile. Try it yourself. Set a timer, put a smile on, and don't move until the timer buzzes. Impossible, right?
Bad Oral Health
Let's say our ancestors had the technology available to take quick, instantaneous pictures. Would that have changed things? Would great-great-great-grandmother Ethel be grinning wide in those old photos? Probably not. Unfortunately, dental care wasn't very advanced, and oral hygiene suffered. Even it was possible to get a picture quickly, many people would have been too embarrassed by their teeth to actually show them off.
From Stoic to Smiling
As time went on, things changed. Technology got better, and photos can now be taken in an instant. Advancements in dentistry makes it easier to get a smile you're proud to show off. Now, people aren't as afraid to show off their many expressions in photographs, including big, wide smiles.
However, there are still some who may be shying away from showing their pearly whites in pictures because they're embarrassed by their smiles. Perhaps teeth may be a bit crooked. Maybe they have unsightly stains. Possibly silver fillings are making the smile appear dark and dingy.
If this sounds like you, there are ways we can help. Cosmetic dentistry, along with high-tech equipment, makes getting the smile you've always wanted easier than ever before. If you want to stop hiding your smile in pictures, give my Sacramento dental office a call today to set up a consultation. We'll discuss your smile goals and the best solutions to get you the smile of your dreams.
Accepting patients from Sacramento, Natomas, Rio Linda.